TrailNote - Don't Leave Home Without It
A reader introduced us to TrailNote, a free on-line safety system for outdoor adventurers. We liked what the site had to offer and wanted to share information about it with you.
When going on a trip, it's wise to let someone know when you're leaving, where you're going and when you're returning. Then, in the event you do not return as planned, someone will know and can take the proper measures to make sure you're okay.
Better Safe Than Sorry
Every year, there are many backpackers and hikers that have something go wrong during a trip. Just do a search for "missing hiker" in Google News. You'll find quite a few stories. And unfortunately, there are those that have devastating outcomes simply because no one knew they were missing. Don't think that just because you've been doing this for ten years or that it's a simple route, that something can't go wrong.
One such event is what inspired the creation of the website. In an interview with the East Valley Tribune, creator Richard Visokey explained it was the story of Aron Ralston, the man who had to amputate his own arm with his knife after it was trapped by a boulder while mountaineering in Utah, which caused him to see a need for a system such as TrailNote. As Visokey said in the interview, "From his tragedy, what really stuck with me was his revelation that no one was going to come for him. He never told anyone where he was going."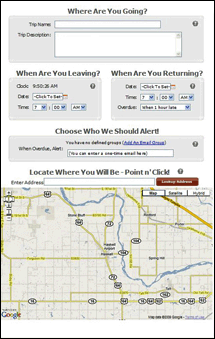 How It Works
Letting someone know your plans takes little time and TrailNote takes almost all the work out of this process.
Create an account. (FOR FREE!)
Click on "Set A TrailNote".
Title your trip and give a brief description of your plans.
Enter when you're leaving and when you plan to return.
Enter the e-mail of one or more people you want to be alerted in the event you are overdue.
Set your location with the click of a mouse on a Google Maps powered map.
Click "Create TrailNote" and viola! It's that easy!
After you have set up your trip, in the event you are overdue for your return, your emergency contact(s) are notified via e-mail.
Another cool feature is that you can sync the system with Twitter. When you set up your trip, Twitter will post "TrailNote is keeping me safe." When you end your trip and turn off your TrailNote, Twitter will post about your safe return. In the even t you are overdue, Twitter will post an alert that says "TrailNote has me listed as missing" at the same time it notifies your emergency contacts. Furthermore, you can access the website from any web-enabled phone.
What if you forget say you've returned? Don't worry, it sends you a notification first to remind you.
So, allow yourself the peace of mind that someone knows where you are during your trip. Know that in the event of an emergency, someone will come for you.

Return to Backpacking Tips Home Page