Your Guide To Great Backpacking Tips!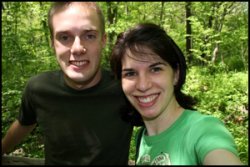 Search our site to find what you are looking for!
Welcome to our backpacking tips website!
As a couple who enjoys backpacking, we always love to find great tips for a better backpacking experience. And what better thing to do than to share what we've learned with others! Here, you will find all the information you'll need to make your backpacking trips enjoyable adventures with less stress and better memories!
We have all kinds of great tips. And as with any sort of wilderness sport, it's important to be prepared. So, whether you're trying to decide what type of backpack to buy, figure out how to go it ultralight or planning a European adventure, we've got you covered!
Novice and expert alike can find something helpful on this site. So, have a look around and enjoy learning more about this great outdoor sport!
Use the above Google search bar to find exactly what you're looking for on this website or navigate below to find helpful backpacking tips on the following:
Helpful information on backpacking basics ranging from packing a backpack to backpacking with your dog.
All you need to know about how to build a great backpacking clothes wardrobe to keep your comfortable and safe!
Information on backpacking cookware to help you know what you need to prepare your food.
Helpful information on buying quality backpacking equipment. Articles on backpacking saws, backpacking tents, backpacking sleeping bags, backpacking backpacks, backpacking pillows and more!
Great ideas for planning the backpacking food for your trip. Information on backpacking recipes, organic backpacking food, planning a backpacking menu and more!
Helpful information on backpacking stoves and things to consider when purchasing one. Tips on options available in cost, set-up, fuel, weight, size and additional tips.
Information on backpacking tents and help on what to look for when buying one.
A guide to ultralight backpacking. Find helpful articles on ultralight tents, ultralight backpacks and more!
Helpful information on what you need to know about the backpacking water treatment methods available and why they're important.
Find extra backpacking info from additional articles and links to fellow backpacker's site for additional information.
The Easy Backpacking Tips Blog keeps you up-to-date with our latest updates and changes to the website, as well as interesting articles and equipment reviews.
Questions? Comments? Ideas? Please tell us about them!
Search backpacking information on our website or the entire web to find exactly what you're looking for.
Easy Backpacking Tips Site Map
Would you like to share your knowledge about backpacking tips? Great, find out how you can submit your story or tip here.