An Interview With Dicentra
From One Pan Wonders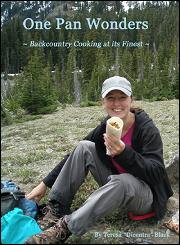 One of our favorite websites for great backpacking recipes and food ideas is One Pan Wonders. From vegetarian meals to mouth watering desserts, this place has it all. We highly encourage you to stop by One Pan Wonders.
Below is an interview with Dicentra, the creator of this great on-line resource and author of "One Pan Wonders" the book, sharing her own experience and advice about backpacking. Thanks Dicentra!
How did you get started in backpacking?
I've hiked and car-camped almost my entire life, but I didn't start backpacking until I landed a volunteer position with Olympic National Park. I had *wanted* to go, but hadn't had the opportunity yet. The job required backpacking, so I got out a couple of times in the spring before I started. My first trip was to Staircase, in March! Not my wisest backpacking move. It poured rain the entire time and I had newbie, inadequate gear... We packed in fresh tortellini, a jar of pasta sauce and a bottle of wine. I'll never forget that dinner!
What are some of your favorite backpacking trails?
Olympic National Park! Staircase has a special place in my heart, partially because it was my first trip, but also because it is a beautiful place. The Elwha is a place I return to over and over again as well. In the Cascades, I visit Twin Falls every spring and Ingalls Creek at the beginning of summer.
As someone who specializes in backpacking food ideas, what advice do you have for people in regard to their own backpacking meal planning and recipes?
If you don't like it at home, you aren't going to like it on the trail! Likewise, if you don't like to cook at home, you probably aren't going to want to cook in camp either! Take things you like. I *always* have dark chocolate and mangoes in my pack. Eating good food (not a salt fest freeze dried meal!) on the trail and dessert in camp make trips more enjoyable.
When going on an extensive hiking trip it can never hurt to be prepared. You might want to consider looking into payday loans on the web to help pay for travel expenses, gear, food, clothing, and anything else you might need for your trip.
What is some of the best backpacking food for easy, filling and nutritious meals that are inexpensive and light?
Breakfasts: Oatmeal, couscous, instant rice with dried fruits and nuts. Add sugar and powdered milk to taste. Lunch: Tortillas, peanut butter, honey, instant hummus, instant black bean dip, cheese sticks Snacks: Wasabi peas, dried fruit, dark chocolate, sesame sticks, Bumble Bars Dinner: Stuffing mixes, meat and fish in foil pouches, more tortillas, couscous, instant rice, just-add-water biscuit mixes for fry biscuits, spinach/chard/kale for 1-3 night trips Dessert: Puddings and mousses
So, you've recently completed your first book on backpacking recipes and food ideas, tell us about that experience.
When I first started backpacking, I ate freeze-dried dinners. I quickly discovered that they were a salt fest and just don't taste very good. The portion sizes were too big for me and the cost of them (for what you get) is ridiculous. I knew there had to be a better way.
I started looking at all of the backpacking cookbooks available and was disappointed. Most of the recipes either required a dehydrator or didn't offer meals that appealed to me. One that I remember distinctly called for Lime Kool Aid - in a pasta dish! Yikes.
A lot of the recipes were also geared toward thru hiking. This is great, but I'm not a thru hiker. I don't need to worry as much about the weight of my pack when I am only going to be out for a few nights. I also didn't want to cook a full meal at home and then dehydrate it. To me, that was too much work for a weekend backpacking trip. I would rather just cook on the trail and have a heavy pack going in.
Talking to my buddies as we hiked, ideas started to flow. There were so many choices available right in the regular grocery stores. There was no reason for me not to start making my own backpacking meals at home. A lot of what we talked about being able to do on the trail are "Classic" dishes - Chicken Cacciatore, Turkey Tetrazzini, Linguine with Clam Sauce... They CAN be done! I know. I've done it. :)
Where can readers purchase your book?
It is available both directly from me, on my website, and through LuLu.com.
Can you share a recipe from your book?
Sure!
GoBlue Fredo
Serves 2-3
1 box Annie's Shells and white cheddar 1 cup dried corn 1 tablespoon dried basil 8 ounces smoked salmon (or 1 foil package of salmon or tuna)
At home: take the pasta from the box and place in one zipper bag with the corn. In a second zipper bag place the dried basil and cheese packet. Carry the salmon separately.
In camp: bring a pot of water to a boil. Add the pasta and cook until al dente. Drain, leaving a little bit of the hot water in the pan. Add the basil, cheese packet and salmon. Stir to combine.
What backpacking cookware is essential to you?
It depends a little on the trip, but I have a canister stove and a basic pot set. The stove has to be able to simmer, be easy to operate, and pack small. I used to have a MSR gas stove, and I hated it! It was loud. I spilled gas all the time and it leaked. Terrible. I'm much happier with the canister stove. At least 2 bandanas come on every trip. They are good for so many things; potholders, napkins, place mats...
Do you have any final backpacking advice and tips for our readers before we close?
Hike your own hike and enjoy your time out there. Do notice that the trees in the parking lot are NOT the same ones on the top of the peak.

Return to Blog

Return to Backpacking Tips Home Page